As an agency we recognize and celebrate Black History Month (BHM) February 1 – 28, 2022 and invite you to engage in a way that honors the past, present, and future! The Grand Rapids Public Library has several programs for both kids and adults that highlight and celebrate our Black community! There are also many events throughout the community focusing on the wellness and mental health of the Black community, including Grand Valley State University & GRCC's Office of DEI (ODEI) Keynote Speaker, LaTosha Brown on Tuesday February 15, at 6p! See details below!
GRAND RAPIDS PUBLIC LIBRARY
Click this link to get full details on all the programs and resources listed below:
https://www.grpl.org/blackhistory/
Click this link for virtual programs that can be enjoyed after their premiere date:
https://www.grpl.org/black-history-month-events/
BHM Reading List
A list books that address the unique mental health challenges that Black people face:
https://grpl.bibliocommons.com/list/share/1472544807_grpl_staffpicks/2011383249_black_mental_health
BHM Mindfulness Kits
Each kit contains materials for de-stressing activities, a StayWell resource guide, local mental health resources – including for the BIPOC (Black, Indigenous, Person of Color) community, and suggestions for practicing mindfulness at home! Resources are available in English and Spanish.
GRCC ODEI MIDTERM MATTERS: FOSTERING THE EMOTIONAL STAMINA TO STAY ENGAGED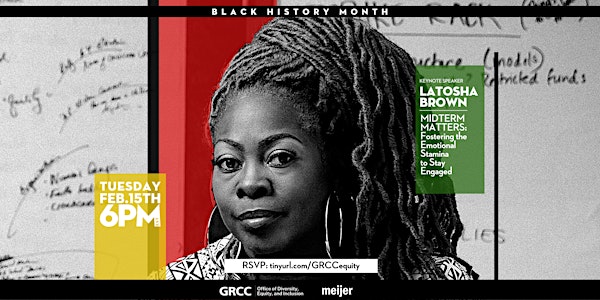 Tuesday, February 15, 2022
6:00pm
LaTosha Brown, a 2019 fellow with The Institute of Politics at Harvard University, is an award-winning organizer, philanthropic consultant, political strategist, and jazz singer with over twenty years of experience working in the non-profit and philanthropy sectors on a wide variety of issues related to political empowerment, social justice, economic development, leadership development, wealth creation, and civil rights. Brown is the co-founder of Black Voters Matter. Click here to register!
GRAND VALLEY STATE UNIVERSITY (GVSU) BLACK HISTORY CELEBRATIONS
Black History Celebration:  Don't Box Me In
Monday, February 21, 2022
7:00 – 8:00 p.m.
Held virtually: Register Now
This presentation will explore how multi-racial and bi-racial individuals are often marginalized, isolated, alienated, and made to choose one race instead of inherently placing value on both or all of their rich races in many spaces.
Black History Celebration:  Department of Music, Theater, and Dance Presents
12 pieces from Samuel Coleridge-Taylor's 24 Negro Melodies, Op. 59 recital
https://www.gvsu.edu/events/black-history-celebration-department-of-music-thea-73960.htm
Friday, February 25, 2022
7:30 p.m.
Held virtually via www.gvsu.edu/mtd/livestream